– The best rehabilitation resin on the market
In three different pot lives for hot or cold days. Pre-weighed in 20 kg, 10 kg or 5 kg containers; discount of 10% applied to purchase quantities of 300 kg or more.
Cold and warm curing
Perfectly balanced viscosity
DIBt-certified in combination with Brawoliner® or needle felt
The best end result on the market.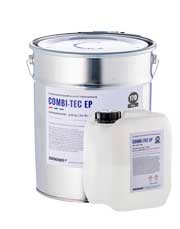 A real sewer rehabilitation resin
Developed exclusively for sewer rehabilitation, this epoxy is not an off-the-shelf resin.
It is precisely tailored to the requirements in the sewer and has proven absolute success on the construction site for many years. These requirements originate from years of practical experience with our own service and have little in common with a conventional epoxy resin. So you can rest assured that this product was developed for users who are as passionate about their job as we are about developing this essential component of inliner rehabilitation. That's why we claim to sell the best inliner rehabilitation resin on the market, and not simply out of overconfidence, but because we develop and produce it in-house and can thus verify the quality above the required standards of the DIBt. This sets this product apart from its competitors on the market and makes it stand alone with its unique properties for sewer rehabilitation. Nevertheless, we are aware that the system component resin cannot be seen as the sole savior and are aware of the importance of the other components and, above all, of the intensive support and training that we have guaranteed all our customers since the early days of our work and continue to expand internally. ⇒ Visit our academy or our e-learning offer for this purpose.
Besides the production and the in-house quality controls, especially the highest quality raw materials guarantee the class of the final product and at the same time minimize the impact on the environment.
The careful development of the resin is also visible when opening the inlets. Immediately after cooling, the liner is ready for further processing. Since a certain "final hardness" was taken into account during development, there is little chip formation during milling and it can be reworked immediately and without complications.
Last but not least, it convinces by its speed. Whether cold, with hot water or steam, Bodenbender EP has no equal in terms of curing time. This is not only due to the quality of the resin, but also to a large extent to the quality of the equipment used.
Minimize your rework with the Bodenbender Inliner-system!
"Above all, health compatibility plays a paramount role in the selection of raw materials. We always make sure, together with our suppliers and consultants, that ingredients are on the positive list and eliminate whenever we can substances that could potentially be classified as hazardous in the future."
More products of PL®-Inliner System